You may have heard the term before.  The "man cave" is a fun-loving name that is often given to the room of the house that has been dedicated to dad, as a place for him to relax, unwind, or maybe even do a hobby he enjoys. Since we're spending a lot more time at home nowadays, a man cave renovation might be at the top of dad's wish list this Father's day. In honor of all the deserving dad's we thought we would share some of the really cool man cave ideas that we felt were worthy of recognition. So if you're looking for some design inspiration, or just want to live vicariously through these lucky guys, read on!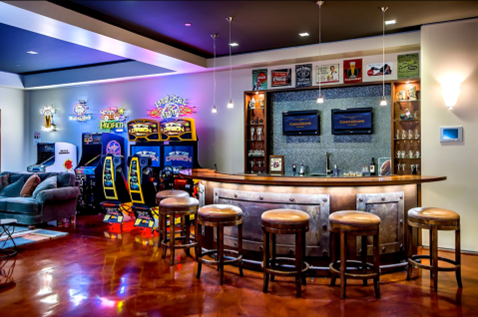 Do you have a basement or den that isn't living up to its full potential? Maybe you should add a bar and arcade.  This spot will  Friday night with the guys in this fun and entertaining space.  You can always have your beverage of choice on draft and have a friendly competition on the old arcade games.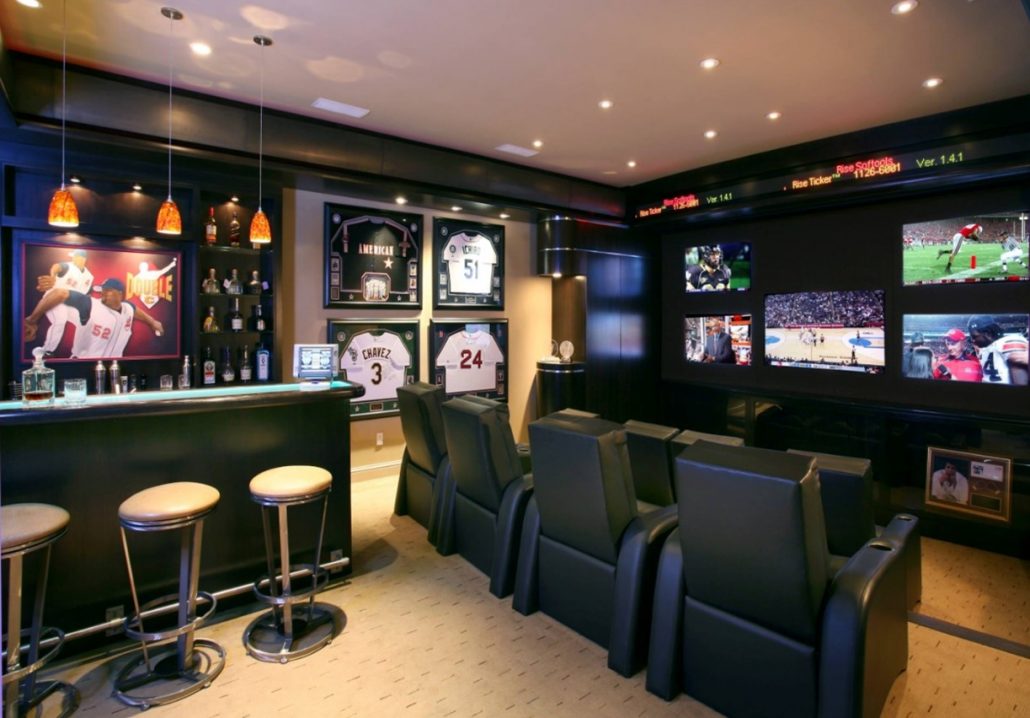 Do you have a sports lover in the house? They will love this sports bar man-cave!  Image how excited he will be about watching 5 games at once!  Since the bar is so close, he won't miss a single play while getting a refill.  Of course, the sport's lovers man-cave wouldn't be complete without plenty of sports paraphernalia from his favorite players displayed throughout.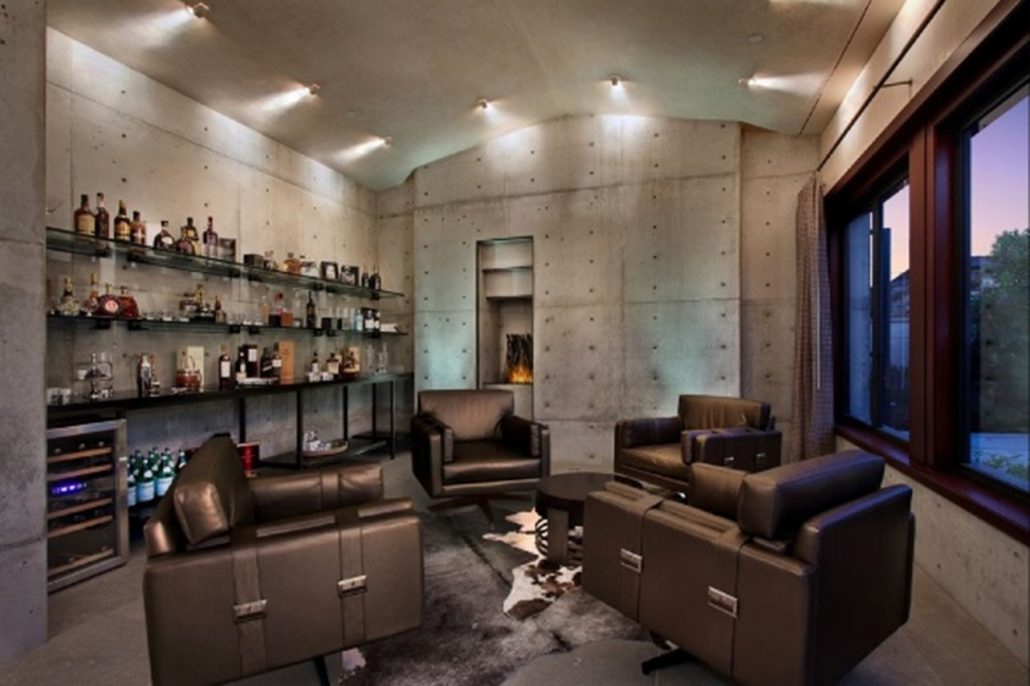 If your dad isn't interested in sports, maybe a more simple, yet sophisticated man-cave would do better. This space would be perfect for the man who likes to read the newspaper or do a crossword puzzle while sipping some scotch. And check out the ultra masculine concrete walls and leather chairs!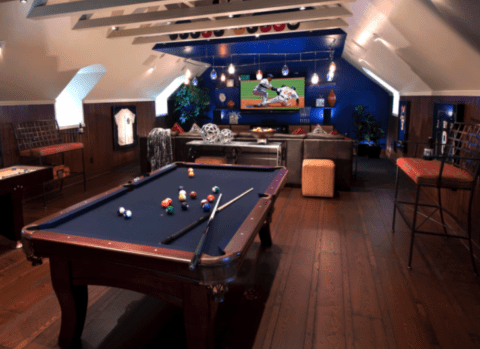 Want the feel of a pool hall without having to leave home? This man-cave is just that! You can play a round of pool while watching a baseball game with your friends.  This area is a little bit more simple than the other spaces, but maybe a bit more functional.  This man-cave would get used all the time – don't be surprised if it becomes the new neighborhood hang out!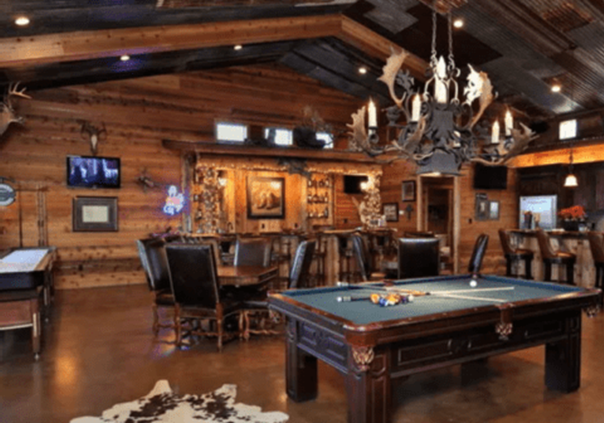 For the outdoorsman, this is the dream man-cave. Even if you are smack-dab in the middle of the suburbs, this space will make him feel like he's in the woods on a cold winter's day.  This space has a tv, pool table, bar, and seating area where he can hang out with his friends.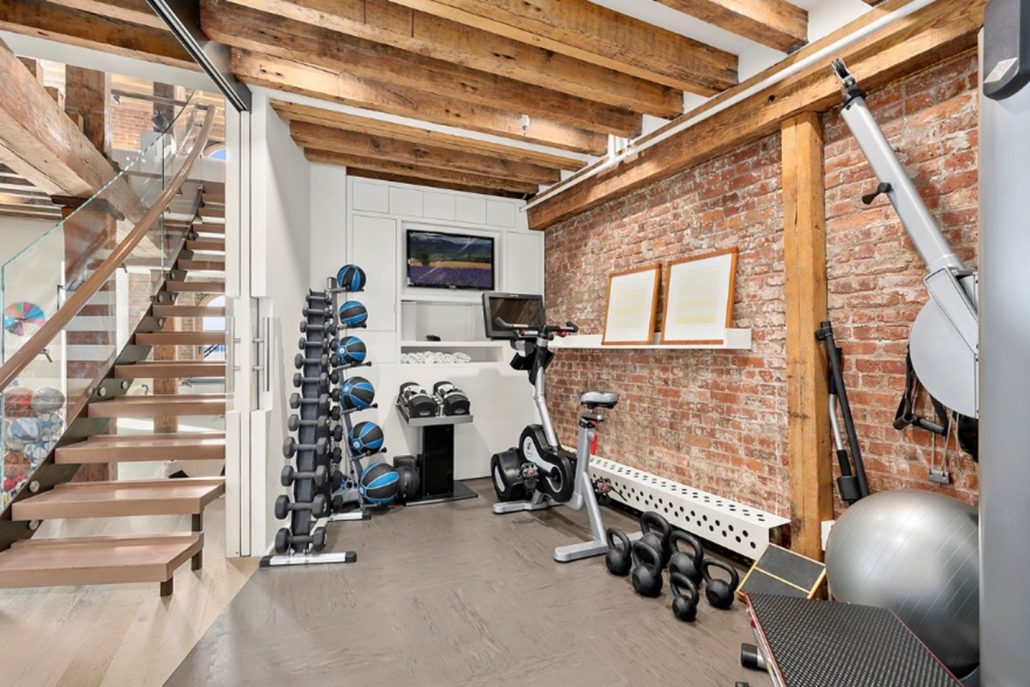 A little different than the other man-caves which centered around fun and relaxation  is the home gym.  If your dad likes to work out, this would be the most functional man-cave for him and would get tons of use.  He may even allow the rest of the family to use it – just remember to rack your weights!
We hope you liked you this round up of impressive man-caves.  Use them as inspiration for your next home project.  Happy Father's Day!