There is a lot of uncertainty in the headlines right now. In many ways, the world is still recovering from the pandemic and the volatility in the housing market. The financial markets especially have seen drastic changes over the past couple of years. These changes, coupled with quickly shifting social and personal needs, have had a significant impact on the housing market. So where is the market right now? And, how does all of that affect you?
Rising Mortgage Rates

As talk of inflation and recession floods the media, we are all bombarded with rising gas prices, increased cost of living, and a spike in mortgage rates [1]. So what is really happening, and what should you do?
Over the past few months, the federal reserve has been working to try to ease inflation by decreasing demand, and the housing market is no exception [2]. The way this shows up in the housing market is through rising mortgage rates, which causes more people to opt out of buying. The good news for you is that experts say we are past the rapid increase of these rates. Mortgage rates may continue to rise in the coming months, but the increases should ease and be less severe by the end of this year [1].
Affordability is now a major challenge as rates rise and housing prices have experienced record increases over the last two years. There are still some benefits for those considering buying a house right now. As demand decreases and housing inventory is rising across the nation, buyers find themselves with more options, less competition, and more bargaining power [3].
Changing Home Prices
Now that we've talked about falling demand for houses, what effect does that have on prices for currently listed homes? Home prices are beginning to drop to counter the imbalance of supply and demand [4]. Sellers are worried because their houses are not selling as soon as they hit the market anymore. In the long run, experts predict the nation will see an annual appreciation of homes in the range of 1.5% – 4.4% in 2023.5 Although, at least one group is predicting a 4% drop in housing prices in 2023 and 5% drop in 2024 [5].
In other words, despite rising costs of buying and building, it is still very attainable for those looking to buy or sell. This also means that even though the trend of uncertainty continues in some aspects, we do know we are not likely at risk for a market crash like in 2008 [6].
Equity Saves the Day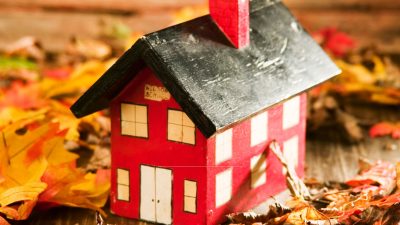 One of the reasons the market won't see a crash like it did in 2008 is because of the stability provided by the massive amount of equity homeowners have today [7]. Even with the rising interest rates this year and the lower demand, because homeowners have so much equity there is not an increase in foreclosures or distressed sellers, leading to market stability rather than a market crash [8].
Meanwhile, inflation has caused the cost of renting to spike [9]. So renters are faced with the decision to keep putting more and more money into their rent, or take that same money and put it into purchasing their own home to get a return over time. Although the upfront costs are high, time has proven that owning a home is worth it in the long run. The equity that builds from your home over time creates wealth and more financial security [8].
The Takeaway
The housing market is in an interesting place right now, and will continue to shift and change over the next few months and possibly years. Costs are high for buyers, dueto rising mortgage rates, but the benefits of owning a home have become more valuable than ever as inflation and rising rents hit all-time record highs. With high uncertainty in the financial markets and inflation on the rise, home prices are also expected to see a month-to-month decline to balance out the decrease in demand. This doesn't change the long term value of owning a home in most cases. Equity will continue to grow and the market will stabilize, experts say there will still be an annual appreciation of homes that is expected to continue to build over the next couple of years. So, despite all of the changes we've seen and will continue to see in coming months, the good news is that we are heading towards a more healthy and stable market in the future.
Sources
[1]https://freddiemac.gcs-web.com/node/25916/pdf
[2]https://twitter.com/odetakushi/status/1572651388135669760
[3]https://www.realtor.com/news/trends/column-homebuyers-have-hard-the-bad-news-heres-the-good/
[4] https://www.showingtime.com/blog/august-2022-showing-index-results/
[5]https://www.freddiemac.com/research/forecast/20220720-quarterly-forecast-market-slowdown-will-continue-high-rates-and-prices-exacerbate
[6]https://twitter.com/NickTimiraos/status/1574458786214948865
[7]https://twitter.com/odetakushi/status/1569338892830265344
[8]https://www.corelogic.com/intelligence/homeowner-equity-insights/
[9]https://www.census.gov/housing/hvs/files/currenthvspress.pdf